Hotelfachschulen
Zwei sehr gute Hotelfachschulen zur Auswahl in Süd-Australien oder New South Wales:
- BlueMountains International Hotel Managment School, Leura/Sydney oder das
- International College for Hotel Management in Adelaide, Süd-Australien, von hoteleriesuisse akkreditiert.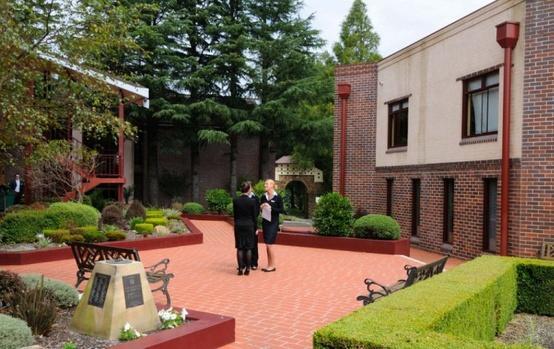 | | |
| --- | --- |
| Lage | Leura-Campus in den Blue Mountains und Sydney, New South Wales, Australien |
| Gründungsjahr | 1991 |
| Studienbereiche | International Hotel & Resort Management, Event Management, Global Business Management |
| Anzahl Studenten total | 600 |
| Anzahl internationale Studenten | 480 |
| Semesterstart | Januar, April, Juli, Oktober |
| Akkreditierung | One of the two institutions in Australia currently certified by World Tourism Organisation (WTO)– the other being the University of Queensland. Cricos Code 03389E |
| Ranking | Blue Mountains Wins at the Australian Tourism Awards 2013 |
| Bewerbungsgebühr | keine |
| Englisch-Anforderung | TOEFL, Academic IELTS |
| Studiengebühr Auslandssemester | AUD 9'000 (4 Kurse) |
| Studiengebühr/Semester Bachelor | ca. AUD 25'600 |
| Studiengebühr/Semester Master | ca. AUD 13'000 |
| Webseite | www.bluemountains.edu.au |
| Suche nach Studiengängen | http://www.bluemountains.edu.au/hospitality-courses/ |
Während dem 2,5-jährigen Bachelor-Studium absolvierst du 2 Praktika in 4- oder 5-Sternhotels. Der Campus im hübschen Leura in den Blue Mountains wird praxisnah wie ein Hotel mit Restaurant geführt. Die Ausbildung ist sehr praxisorientiert und die Schule unterstützt und fördert dich, einen Nebenjob zu finden. Die Bluemountains Schule ist in Australien so hoch angesehen, dass sich Arbeitgeber um die Absolventen reissen. 95% der Absolventen bekommen Arbeitsverträge noch bevor sie mit dem Studium fertig sind.
International College of Hotel Management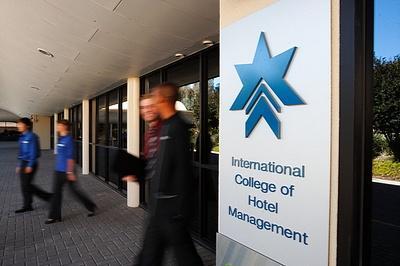 Lage
Adelaide, Süd-Australien
Gründungsjahr
1992
Studienbereiche

Bachelor of Business (Hospitality Management)

oder

Bachelor of International Hotel Management (Swiss Hotel Association)

Anzahl Studenten total
300
Anzahl internationale Studenten
150
Semesterstart
Januar und Juli
Akkreditierung
Swiss Hotel Association (SHA), hotelleriesuisse, Gründungsmitglied der Association of Australian Hotel Schools (AAHS), TEQSA-Akkreditierung, Cricos Code 03389E
Bewerbungsgebühr
keine
Englisch-Anforderung
TOEFL, Academic IELTS, Cambridge, PTE, CEFRL
Akademische Voraussetzung
mind. 3-jährige abgeschlossene Ausbildung, Handelsschule
Studiengebühr Auslandssemester
ca. AUD 11'200
Studiengebühr/Semester Bachelor
ca. AUD 25'800 pro Jahr
Webseite
Suche nach Studiengängen
http://www.ichm.edu.au/program/what-can-i-study-/one-program-two-degrees
ICHM (International College for Hotel Management) liegt im hübschen Adelaide und ist von hoteleriesuisse akreditiert. ICHM ist eine kleine private Universität und arbeitet schon seit zwanzig Jahren mit der Swiss Hotel Association (SHA) zusammen. Das SHA-Diplom ist die führende internationale Qualifikation für Hotelmanagement. Die Bildungsqualität, für die die Swiss Hotel Association berühmt ist, wird jetzt in Australien von ICHM geliefert. Studenten, die sich in Adelaide einschreiben, können sicher sein, dass sie vom guten Ruf der Schweizer Qualität profitieren. Ein Studium in Australien und die Nähe zur dynamschen Asien-Pazifik-Region bietet spannende Möglichkeiten für ein Praktikum in weltberühmten Hotels. Es können verschiedene aufbauende Studiengänge gewählt werden.
Zertifikat (6 Monate) + auf Wunsch 6 Monate Praktikum
Diplom (1 Jahr)
Associate Degree (2 Jahre)
Higher Diploma (2-2,5 Jahre)
Bachelor-Studium (3-4 Jahre)
BA in Hospitality
Der Campus ist ca. 20 Minuten von der Stadt Adelaide entfernt. Das Studentenwohnheim ist an der gleichen Adresse wie der Campus selbst, was bedeutet, dass die Studenten nur einen kurzen Spaziergang zu den Klassenzimmern entfernt sind.
--> Zurück zur Uebersicht alle Universitäten in Australien
--> Möchtest du mehr Informationen? Zum Anfrageformular