University of Queensland (Go8)
An einer der führenden Universitäten Australiens studieren (Group of Eight-Universität)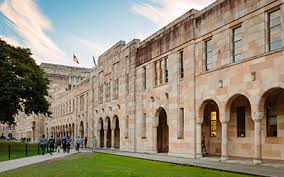 | | |
| --- | --- |
| Lage | Brisbane, Queensland |
| Gründungsjahr | 1909 |
| Studienbereiche | Arts, Business & Economics, Engineering, Architecture, Information Technology, Health Sciences, Science, Social & Behavioural Sciences |
| Anzahl Studenten total | 44'000 |
| Anzahl internationale Studenten | 12'000 |
| Semesterstart | Februar und Juli |
| Akkreditierung | Gründungsmitglied der Group of Eight. Cricos Code 00025b |
| Ranking | unter den besten 50 Universitäten der Welt |
| Bewerbungsgebühr | AUD 100.- |
| Englisch-Anforderung | TOEFL, Academic IELTS |
| Studiengebühr Auslandssemester | AUD 10'820 (3-5 Kurse) |
| Studiengebühr/Semester Bachelor | ca. AUD 9'800 - 14'120 (je nach Studienrichtung) |
| Studiengebühr/Semester Master | ca. AUD 10'870 - 16'080.- (je nach Studienrichtung) |
| Webseite | www.uq.edu.au |
| Suche nach Studiengängen | http://www.uq.edu.au/study/ |
Die 1909 gegründete University of Queensland, Brisbane, ist die älteste Universität in Bundesstaat Queensland. Als Mitglied der Group of Eight, dem Zusammenschluss Australiens acht größter Forschungsuniversitäten, zählt die UQ zu den Top 3 Forschungsuniversitäten des Landes. Die Faculty of Science gehört zu Australiens größten ihrer Art, mit einer Forschungsstation im Great Barrier Reef sowie einer neuen Veterinärschule in der regionalen subtropischen Umgebung. Die UQ ist eine Universität mit hochqualifizierten Dozenten, wie diverse Auszeichnungen für hervorragenede Lehre beweisen.
St Lucia Campus ist der Hauptcampus der Universität Queensland. Er liegt etwa 7 Kilometer von Brisbanes Innenstadt entfernt. Ipswich und Gatton liegen 40 bzw. 80 Kilometer südwestlich von Brisbane und sind mit öffentlichen Verkehrsmitteln leicht zu erreichen. Am Herston Campus sind medizinische Lehr- und Forschungseinrichtungen stationiert.
Das Studienjahr an der University of Queensland hat zwei Semester plus eine Summer School: Semester 1 (Februar bis Juni), Semester 2 (Juli bis November), Summer School (Dezember bis Februar). Der Großteil der Kurse wird in Semester 1 und 2 angeboten.
--> Zurück zur Uebersicht alle Universitäten in Australien
--> Möchtest du mehr Informationen? Zum Anfrageformular