Central Queensland University
Die Central Queensland University bietet ganz spezielle Programme für ein Auslandsstudium; hier ein Beispiel: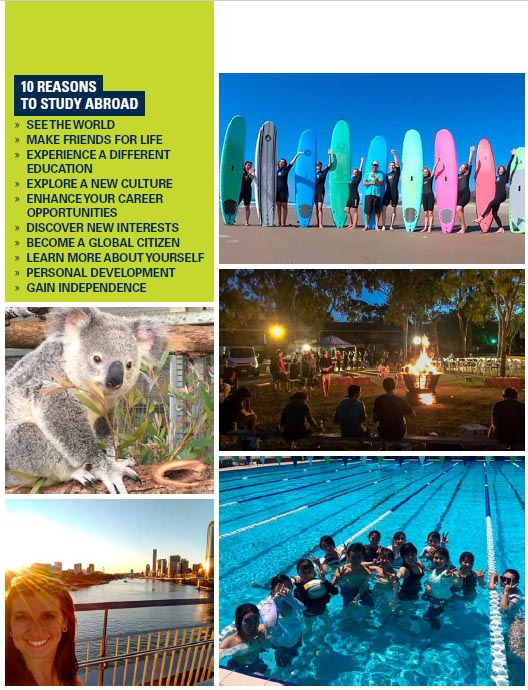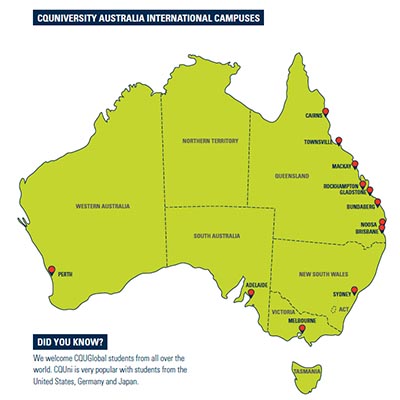 Downloade hier die Auslandssemester-Broschüre "CQUGlobal and Study Tours"
Studienort

Haupt-Campus in Rockhampton, Neben-Campus in Brisbane, Gladstone, Mackay, Bundaberg, Noosa, Cairns, Townsville, Sydney, Melbourne, Adelaide.

Gründungsjahr
1991
Hauptforschungsgebiete


o Business
o Accounting and Law
o Creative, Performing and Visual Arts
o Education and Humanities
o Engineering and Built Environment
o Health
o Information Technology and Digital Media
o Psychology, Social Work and Community Services
o Science and Environment

Anzahl Studenten total
35'000 verteilt auf alle Kampusse
English-Anforderungen
TOEFL, Academic IELTS, PTE (A), CAE, CPE
Ranking
The Times Higher Education World University Rankings 2015-16 ranks CQUniversity in the top 501-600 group of universities, positioning us in the top 3% of universities in the world
Akkreditierung
Website
CQUniversity
Semesterstart
Februar, Juli, (November Sommersemester mit reduziertem Studienangebot)
| | |
| --- | --- |
| Studiengebühr/Kosten Auslandssemester | AUD 9´000 (für 3-4 Kurse) |
| Studiengebühr/Semester Bachelor | ca. AUD 14´400 - 17´040 (je nach Studienrichtung) |
| Studiengebühr/Semester Master | ca. AUD 13´920 - 16´464 (je nach Studienrichtung), Research-Semester AUD 9´600 |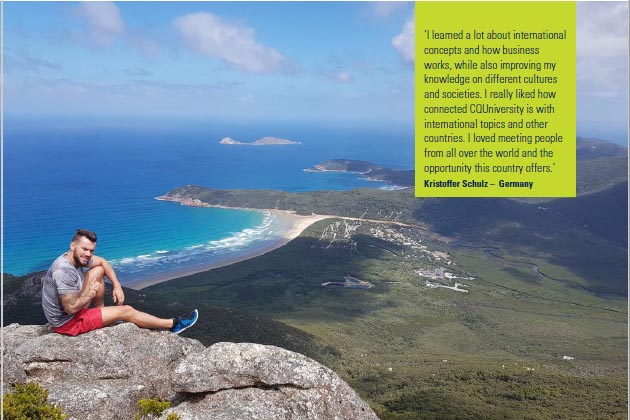 Unser StudySmart Team bietet Dir die beste und kompetenteste Beratung, ermöglicht durch eigene Auslandserfahrung und jahrelange Erfahrung in der Beratung von Studenten und Schülern. Wir erteilen Dir nicht nur Rat über welche Universität in Australien, Neuseeland, USA, Kanada oder Großbritannien am besten zu Dir passt, sondern wir erledigen für Dich auch die Bewerbung, Übersetzungen, Beglaubigungen und helfen sogar auch bei Visum, Unterkunft, Versicherungen und sogar bei Reisetipps. Und all dies auch noch absolut kostenlos!
Die Suche nach Informationen über ein Auslandsstudium, Auslandssemester, einen Sprachaufenthalt oder ein High School-Jahr, kann sehr zeitintensiv sein, insbesondere wenn man nicht weiß was für die eigene zukünftige Karriere am besten ist.
Unsere eigenen Erfahrungen als Studenten mit Auslandserfahrung können Dir viel Zeit ersparen und wir können Dir wertvolle Tipps geben, damit Dein Traum vom Auslands-Aufenthalt in einem englischsprachigen Land bald zur Realität wird.
Zum Anfrageformular.

Studienrichtung für Bachelor
Gesundheit
Ingenieurwissenschaften
Kunst / Kunstwissenschaft
Naturwissenschaften & Mathematik
Pädagogik und Lehramt
Rechtswissenschaften
Sozialwissenschaften
Sprach- & Kulturwissenschaften & Sport
Wirtschaftswissenschaften
Studienrichtungen für Master
Gesundheit
Ingenieur- wissenschaften
Kunst / Kunstwissenschaft
Naturwissenschaften & Mathematik
Pädagogik und Lehramt
Rechtswissenschaften
Sozialwissenschaften
Sprach- & Kulturwissenschaften & Sport
Wirtschafts- wissenschaften