Curtin University
Die Universität ist mit ihrem umfangreichen Kursangebot ein renommierter Anbieter auf dem internationalen Bildungsmarkt und stolz auf die Multikulturalität ihrer Studenten und Mitarbeiter: Am größten Campus dieser Universität in Australien - in Bentley - studieren mehr als 10'000 internationale Studenten aus 120 Ländern. Die Stärke der Curtin University liegt in ihrem Engagement für innovative Ansätze in Lehre und Studium, in ihren engen Beziehungen zur Industrie sowie in ihrer bahnbrechenden Forschung und starken internationalen Orientierung.
Der Hauptcampus der Curtin University ist in Bentley, etwa sechs Kilometer südlich vom Stadtzentrum von Perth. Neben dem Hauptcampus in Perth ist die Universität unter anderem auch mit Standorten in Sydney, Malaysia und Singapur vertreten.
Studienort
Gründungsjahr
1966
Hauptforschungsgebiete


o Curtin Business School
o Health Sciences
o Humanities
o Science and Engineering
o Centre for Aboriginal Studies

Anzahl Studenten total
50'000, davon 10'000 internationale Studenten
English-Anforderungen
TOEFL, Academic IELTS, FCE, CAE, CPE, PTE
Ranking
25th in the QS World University rankings in 2013/14 for universities under the age of 50. Five stars overall in the international QS Stars ratings 2014.
Akkreditierung

EFMD-EPAS, CIPSA, Cricos Code 00301J

Website
Curtin University | Make tomorrow better
Semesterstart
Februar und Juli
| | |
| --- | --- |
| Studiengebühr/Kosten Auslandssemester | |
| Studiengebühr/Semester Bachelor | |
| Studiengebühr/Semester Master | ca. AUD 14'500 - 19'600 (je nach Studienrichtung) |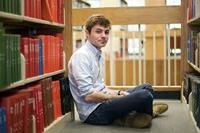 Jason: "I just wanted to express my thanks again in getting me across the finish line. Enrollment is Wednesday and barring anything major I should be a student (of sorts) in a week. Patricia, you have helped me on the path to that goal and through what, for me, were the minefields of paperwork and forms and of course my general confusion. I am not sure I would have done it without your guidance and support."
Unser StudySmart Team bietet Dir die beste und kompetenteste Beratung, ermöglicht durch eigene Auslandserfahrung und jahrelange Erfahrung in der Beratung von Studenten und Schülern. Wir erteilen Dir nicht nur Rat über welche Universität in Australien, Neuseeland, USA, Kanada oder Großbritannien am besten zu Dir passt, sondern wir erledigen für Dich auch die Bewerbung, Übersetzungen, Beglaubigungen und helfen sogar auch bei Visum, Unterkunft, Versicherungen und sogar bei Reisetipps. Und all dies auch noch absolut kostenlos!
Die Suche nach Informationen über ein Auslandsstudium, Auslandssemester, einen Sprachaufenthalt oder ein High School-Jahr, kann sehr zeitintensiv sein, insbesondere wenn man nicht weiß was für die eigene zukünftige Karriere am besten ist.
Unsere eigenen Erfahrungen als Studenten mit Auslandserfahrung können Dir viel Zeit ersparen und wir können Dir wertvolle Tipps geben, damit Dein Traum vom Auslands-Aufenthalt in einem englischsprachigen Land bald zur Realität wird.
Zum Anfrageformular.

Studienrichtung für Bachelor
Gesundheit
Ingenieurwissenschaften
Kunst / Kunstwissenschaft
Naturwissenschaften & Mathematik
Pädagogik und Lehramt
Rechtswissenschaften
Sozialwissenschaften
Sprach- & Kulturwissenschaften & Sport
Wirtschaftswissenschaften
Studienrichtungen für Master
Gesundheit
Ingenieur- wissenschaften
Kunst / Kunstwissenschaft
Naturwissenschaften & Mathematik
Pädagogik und Lehramt
Rechtswissenschaften
Sozialwissenschaften
Sprach- & Kulturwissenschaften & Sport
Wirtschafts- wissenschaften