Macquarie University
Macquarie University in Sydney, Australien, ist bekannt für eine sehr gute Business- und Finanzausbildung sowie auch stark in den Bereichen Psychologie und Lehrerausbildung. Diese Universität gehört zu den besten 10 Universitäten in Australien gemäss dem Shanghai Jiao Tong University Academic Rankings. Die 1969 gegründete Macquarie Graduate School of Management MGSM bietet als Universität in Australien ein Full-time MBA innerhalb von 12 Monaten an. Für die Business-Studiengänge dieser Universität in Australien kann man aus zwei Orten auswählen: City Campus mitten im Finanzzentrum von Sydney's Innenstadt oder den 126ha grossen Campus mit Park, See und Sportanlagen in North Ryde. Der Campus dieser Universität in North Ryde in Australien hat eine eigene Zugstation und ist somit noch besser an den öffentlichen Transport angebunden. Ausserdem wurde bei dieser Universität in Australien eine Klinik mit Forschungslabor fertig gestellt und weitere Forschungsgebäude sind bereits in Planung. Die neue Bibliothek ist mit moderner Automationstechnik ausgerüstet.
Die grosszügigen und beliebten Sportanlagen inklusive Swimmingpool werden bei dieser Universität in Australien gut unterhalten und laufend modernisiert. Durch die Lage in North Ryde bietet diese Universität in Australien mehr zahlbare Unterkunftsmöglichkeiten als im Zentrum von Sydney und der Strand von Manly ist auch nicht weit weg. Maquarie University erhielt vom Good University Guide eine 5-Sterne-Auszeichnung für hoch qualifizierte Lehrpersonal und eine multikulturelle Studentenschaft. Anzahl Studenten: ca. 33'000, davon internationale Studenten: ca. 10'000 aus über 114 Ländern.
Lage
Sydney, New South Wales, Australien
Gründungsjahr
1964
Studienbereiche


o Arts
o Business & Economics
o Human Sciences
o Sciences

Anzahl Studenten total
39'000, davon 11'400 internationale Studenten
Akkreditierung
AACSB (Business Accreditation), Cricos Code 00002J
Ranking
Ranked among the top 1% of world universities in the world (QS World University Rankings, 2020 and Times Higher Education World University Rankings, 2021)
English-Anforderung
TOEFL, Academic IELTS, PTE (A), CAE, CPE
Website
Macquarie University | Tertiary Education (mq.edu.au)
Semesterzeiten
Semesterstart: März und August
| | |
| --- | --- |
| Studiengebühr/Kosten Auslandssemester | AUD 6'450 (3 Kurse) oder AUD 8'500 (4 Kurse) |
| Studiengebühr/Semester Bachelor | ca. AUD 14'000 - 16'500 (je nach Studienrichtung) |
| Studiengebühr/Semester Master | ca. AUD 12'500 - 21'600 (je nach Studienrichtung) |
| | |
| Scholarship: AUD 10´000.- pro Jahr für jeden Europäer | (kein Mindest-Notendurchschnitt erforderlich) |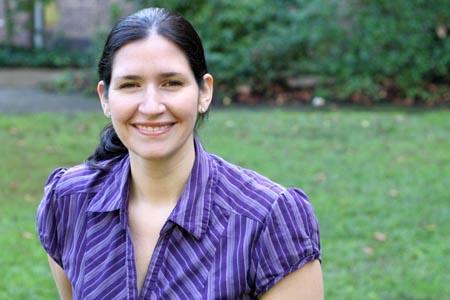 Beatrice über MACQUARIE UNIVERSITY, Sydney:
"Ich studiere an der MGSM - ist der privatisierte Teil der Macquarie, der postgraduate studies anbietet (MBA und Master of Management). Die Uni ist auf jeden Fall gut! Ein unschlagbarer Vorteil ist, dass man den MBA in einem Jahr (ähnlich wie an der Bond University) machen kann, das bietet sonst keine vergleichbare andere Uni in Sydney an!!"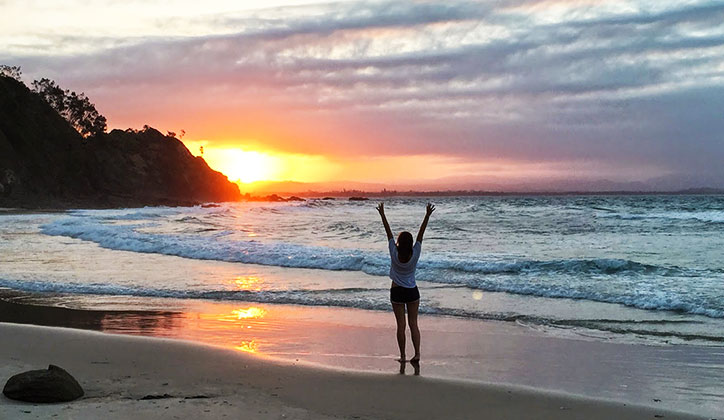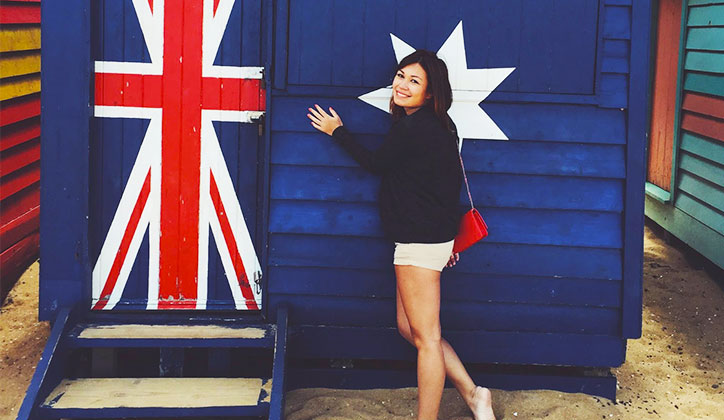 Law student Miyuki Uido is studying at Macquarie on exchange from the University of Leicester. Here she reflects on a her year in Australia.
"Exactly 11 months ago, I travelled 17,000km and landed down under, extremely anxious and excited at the same time. I had finally achieved one of the goals I had when applying to university: go on a year abroad in Australia.
As a destination, Sydney has so much to offer. Whether it is cafes, international food, pubs, bars, countless beaches and running tracks – it has everything for everyone.
From my cultural background and the environment in which I was brought up, perfectionism and stress was a daily normality. But in Australia, the golden laid back style alleviated my concerns. I fell in love with the healthy lifestyle right away.
A couple of months after my arrival, I started my first Australian travel journey up the East coast. I made friends for life and saw things I was so grateful to see – from wild koalas, wallabies and snakes, to the breathtaking crystal-clear Lake McKenzie, to skydiving in the Great Barrier Reef, the experiences went beyond my expectations. It was only the beginning, and I was already consumed by wanderlust and curiosity.
Each of my travels across Australia has left something inside me that I will never let go of: experiences, emotions, discovery and self-growth.
Overall, it has been a fantastic year I will soon have to leave behind. But I have already planned my 'home'coming next year, if I can call Australia my second home."
Unser StudySmart Team bietet Dir die beste und kompetenteste Beratung, ermöglicht durch eigene Auslandserfahrung und jahrelange Erfahrung in der Beratung von Studenten und Schülern. Wir erteilen Dir nicht nur Rat über welche Universität in Australien, Neuseeland, USA, Kanada oder Grossbritannien am besten zu Dir passt, sondern wir erledigen für Dich auch die Bewerbung, Übersetzungen, Beglaubigungen und helfen sogar auch bei Visum, Unterkunft, Versicherungen und sogar bei Reisetipps. Und all dies auch noch absolut kostenlos!
Die Suche nach Informationen über ein Auslandsstudium, Auslandssemester, einen Sprachaufenthalt oder ein High School-Jahr, kann sehr zeitintensiv sein, insbesondere wenn man nicht weiß was für die eigene zukünftige Karriere am besten ist.
Unsere eigenen Erfahrungen als Studenten mit Auslandserfahrung können Dir viel Zeit ersparen und wir können Dir wertvolle Tipps geben, damit Dein Traum vom Auslands-Aufenthalt in einem englischsprachigen Land bald zur Realität wird.
Zum Anfrageformular.

Studienrichtung für Bachelor
Gesundheit
Ingenieurwissenschaften
Kunst / Kunstwissenschaft
Naturwissenschaften & Mathematik
Pädagogik und Lehramt
Rechtswissenschaften
Sozialwissenschaften
Sprach- & Kulturwissenschaften & Sport
Wirtschaftswissenschaften
Studienrichtungen für Master
Gesundheit
Ingenieur- wissenschaften
Kunst / Kunstwissenschaft
Naturwissenschaften & Mathematik
Pädagogik und Lehramt
Rechtswissenschaften
Sozialwissenschaften
Sprach- & Kulturwissenschaften & Sport
Wirtschafts- wissenschaften