Seattle Central College, WA
Lage
Das Seattle Central College ist die einzige Universität, die mitten in Seattle liegt. Alle anderen sind Meilen entfernt. Geschäfte, Restaurants, Lebensmittelgeschäfte, Cafés, Museen, Bibliotheken, Filmtheater, Stadtparks und Sportmöglichkeiten sind alle nur gerade ein kurzer Spaziergang oder Busfahrt weg vom Campus!
Klima
ModerateTemperaturen das ganze Jahr.
| | |
| --- | --- |
| Lage | Seattle, Washinton, USA |
| Gründungsjahr | 1902 |
| Anzahl Studenten total | 12'000, davon 2'000 internationale Studenten |
| Akkreditierung | Community College Washington State Akkreditierung |
| Ranking | Seattle Central was named "College of the Year" in a one-time study by TIME Magazine and recognized by the New York Times as one of the best community colleges nationwide in the article, "For Achievers, A New Destination." |
| English-Anforderungen | TOEFL, Academic IELTS |
| Website | International Education | Seattle Central College |
Semesterstart
Januar, April, Juni und September
| | |
| --- | --- |
| Studiengebühr für ein Auslandssemester | ca. USD 6'500 |
| Studiengebühr/Semester/Jahr | ca. USD 10'200 |
| Stipendien | ca. USD 250 - 1'500 pro Quartal |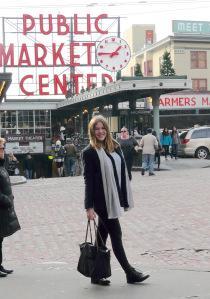 Antonia Frenzel studiert 1 Jahr am Seattle Central College und führt einen Blog. Folge ihrer Reise, wie sie ihr neues Zuhause in Seattle, Washington, erlebt.
Unser StudySmart Team bietet Dir die beste und kompetenteste Beratung, ermöglicht durch eigene Auslandserfahrung und jahrelange Erfahrung in der Beratung von Studenten und Schülern. Wir erteilen Dir nicht nur Rat über welche Universität in Australien, Neuseeland, USA, Kanada oder Großbritannien am besten zu Dir passt, sondern wir erledigen für Dich auch die Bewerbung, Übersetzungen, Beglaubigungen und helfen sogar auch bei Visum, Unterkunft, Versicherungen und sogar bei Reisetipps. Und all dies auch noch absolut kostenlos!
Die Suche nach Informationen über ein Auslandsstudium, Auslandssemester, einen Sprachaufenthalt oder ein High School-Jahr, kann sehr zeitintensiv sein, insbesondere wenn man nicht weiß was für die eigene zukünftige Karriere am besten ist.
Unsere eigenen Erfahrungen als Studenten mit Auslandserfahrung können Dir viel Zeit ersparen und wir können Dir wertvolle Tipps geben, damit Dein Traum vom Auslands-Aufenthalt in einem englischsprachigen Land bald zur Realität wird.
Zum Anfrageformular.

Studienrichtung für Bachelor
Gesundheit
Gesundheit
Ingenieurwissenschaften
Ingenieurwissenschaften
Kunst / Kunstwissenschaft
Naturwissenschaften & Mathematik
Sprach- & Kulturwissenschaften & Sport
Wirtschaftswissenschaften